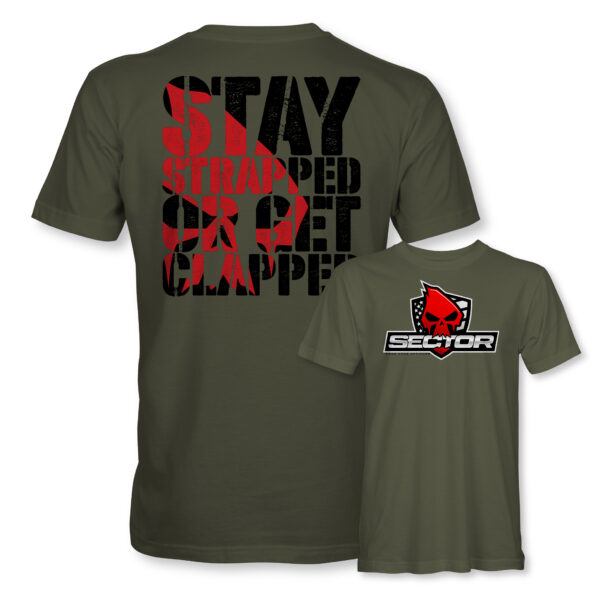 Stay Strapped
$26.95 – $29.95
"Stay Strapped or Get Clapped" will be your best bet to stay safe. When George Washington said that "The best way to prevent a crime is to get a gun," I think he knew what he was talking about. That's why he said it. When Ben Franklin said, "A well-regulated militia, being necessary to the security of a free State, the right of the people to keep and bear Arms"
Apparel and design colors may vary due to print processes
The last thing you want to do is spend your hard-earned money on a 'patriotic' shirt that was made overseas
Description
Additional information
Description
USA Made and Printed: We are 100% American Made with well over 20 years of experience in the industry. Many orders are set up and printed by our proud Veteran and American patriot employees! Our entire mission behind Sector is to provide a top-quality premium clothing brand and we all stand united.
Great American Designs: We design all our shirts right here in the USA. Our designs come from American patriot artists and veterans and aim to provide some of the most unique styles in the industry.
Quality Product: Fabrics from top-quality USA textiles that offer premium fits. Soft, tagless shirts with custom printed Sector tags.
100% Patriotic Guarantee: If you are not completely satisfied for whatever reason, we will offer you an immediate exchange or refund. Our team is here to help ensure you have nothing but the best shopping experience. We always have your back.
Stay Strapped or get Trapped
When there is a need for action, you should stay prepared. It is not every T-shirt that gives you all the freedom to tackle anything as it comes. Some are a bit baggy and constitute baggage while some are too tight. However, with the Stay Strapped T-shirt, you are prepared for any action.
So, the Stay Strapped T-shirt will give you that right balance of beauty and readiness. Prance around with any design you like and enjoy your day.
What's so unique about the Stay Strapped T-shirt?
It's Got Utility
Do you feel like taking some fresh city air at night or maybe going for a casual bicycle ride? The Stay Strapped T-shirt covers all that. Due to its very attractive design, you can wear it to semi-formal functions and parties. In addition, you can choose it for the little tinkering of the house roof because of its allowance and flexibility.
It's 100% American
The Stay Strapped T-shirt is wholly made in America and by Americans. All the materials used in making this T-shirt are from America. Indeed, it is a T-shirt made by Americans for Americans.
Therefore, when you wear this exquisite T-shirt, you are fulfilling the American dream.
Quality Fabrics
When you get the Sector Industries Stay Strapped T-shirt, you get a T-shirt made with the best American fabrics. This makes it very comfortable to wear and fit.
Moreover, the high-quality fabrics relax your skin and give you that soft feel. This also makes it durable and invulnerable to easy wear and tear.
Great Aesthetics
The sector Industries Stay Strapped  T-shirt has a bold font print behind it with some tinge of red. The minimalist style is just perfect for the utility of the cloth.
The design is faint and bold with just the right amount of brightness of the blood-red skull which gives it the right balance.
To cap it all, in the Sector Industries Stay Strapped T-shirt, you have a T-shirt to get ready for anything. In pursuit of our goals every day, you either "stay strapped or get clapped".